Rolling For Kindness AsIAm Stream Interview: Elijah and Michael
Roll For Kindness, a LGBT positive RPG group, will shortly host a stream for AsIAm. This weekend (30th-1st December), they will host an ambitious gaming stream.  Over six different Role Playing Games will play out, with numerous guests (both local and international) to raise funds for AsIAm. I sat down with co-founders Michael Conway and Elijah Fanning to discuss the project. 
How did the idea of Rolling For Kindness come about?
Elijah: We were inspired by Hbomberguy's Donkey Kong Stream raising money for Mermaids. (Editor's note: for those unaware, the stream took place in January 2019. The stream raised money for Mermaids, a charity which provides information for trans children. Despite setting £5000 as the goal, the stream ultimately raised over fifty times that!) I watched it on and off the whole way through and it felt for once like everyone was in our corner. Seeing people like Alexandria Oscario Cortez and John Romero speaking out in support was amazing.
Michael: Trans children are such a marginalised group and was amazing to see Harris and everyone else on our side. I came out later in life. As someone who never got to be a trans child I felt very loved and very hopeful.
Elijah: Streaming platforms like Twitch and Mixer make a huge difference. It means you can transmit to a much wider audience. In Harris' case it meant being able to connect with politicians, actors and content creators across the globe.
So would you say that Rolling For Kindness represents multiple groups?
Elijah: Yes originally we called it Roll For BelongTo. Our first fundraiser was with them raising funds for LGBTQ+ supports. We changed the name to kindness to make it more inclusive of other groups. Both myself and Michael are trans and I'm autistic.
Michael: I have cerebral palsy. So with two trans disabled co-founders we represent several groups at once.
Would you say there's a big interesection between autistic and trans experience?
Elijah: Absolutely. There's a great book by Laura Kate Dale about this exact relationship.
Michael: Autistic people in general care less about perceived gender and gender roles. It doesn't occur to them that the binary is a thing.
Both autistic and trans people often have their lived experiences denied. Society frequently questions trans people's gender identity. Autistic people have difficulty gaining a diagnosis. How do you feel these two pressures combine in a trans autistic person?
Michael: That just sounds like HSE with extra steps! When you're trans, you have to go through hours of questioning about your entire life to determine if you're really trans. This is even harder to achieve if you're autistic. The attitude towards autistic trans people is that being trans just a special interest and you'll grow it.
Tell me a bit about the stream. Who's going to be involved?
We collaborated with Dublin Gaymers initially. Once we knew we wanted to do a stream so we reached out to a number of people in the RPG community. Doing a stream gives us a much wider reach. We've got Joel Ruiz, GM (Games Master) for Critical Bits podcast. We've also got US based Aram Vartian. He's the GM of Gods Fall and Demigods Fall.
We've also got plenty of Irish contributors as well. Orla Ní Dhúíl has helped a lot with management of the stream, she'll be DMing one of the games.  We've also got the boys from the Homebrew DND podcast to join in.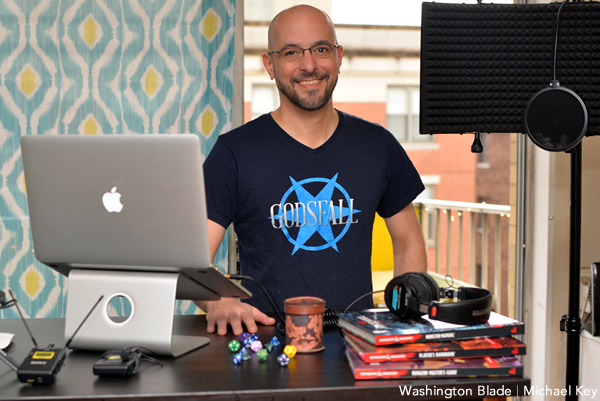 That's quite the mix of people! What made you choose such an ambitious format!
Elijah: Yeah we have our full cast ready to go. We have the platforms. We've scheduled the games to match the right time zones. There will be three games each day over two days.
We were inspired after Joel Ruiz did a stream called Spider Day, with multiple games over several days. For sponsors we approached for prizes from DND Beyond. They were very helpful.
Why did you choose AsIAm?
Elijah: We want to help autistic-led groups because we want what's best for all of us. 
 Michael: Roll For Kindness is best described as raising money for human-rights. After all, what kind of hypocrites would we be if we didn't support humans of all types?
Ireland has a wonderful knack for sweeping anything mental illness related under the rug. I didn't get any mental health supports until I was 21.
Ethan from Dublin Gaymers spoke about the benefits of RPGs for autistic people. Would you say RPGs provide unique opportunities?
Elijah: One of the reasons RPG. RPGs are a big special interest for me and I've wanted to turn RPGS into a force for good. RPGs give you the ability to explore. I've dealt with dysphoria lot and have difficulty exploring trauma in real life. In one of my first RPGs I created a girl who is the first trans woman in a long line of women heroes. I was early in my transition and without hormones so it was really empowering. The character embodied what I wanted to look like and was really confident in a way I wasn't. In that sense RPGs really helped me explore trans identity in a safe space. C
What goals, besides fundraising, do you have for Roll For Kindness?
Elijah: there's problems in the RPG community and it creates a bad atmosphere. I want to show that there's good there and people who will do what's right. I also want to show that you can make something productive out of special interest and build something out of that.
Michael: To show that autistic people deserve to be in the spotlight for the right reasons. Not because they're inspirational or being filmed having a meltdown. They are normal people doing decent things that just happen to have disabilities.
Can this be improved?
Contact
webeditor@asiam.ie
if you have any suggestions for this article.