An Garda Síochána and An Post Announce New Supports during COVID-19 Outbreak
Both the Gardaí Síochána and An Post have pledged supports to the most vulnerable members of society, including those with additional needs.
Deputy Commissioner Twomey remarks "As a community at this time we need more than ever to support the most vulnerable in our society, particularly our elderly and isolated.  An Garda Síochána has always worked closely with our communities and we continue to do so in these extraordinary times."  This support will mainly be provided by hiring additional vehicles to provide additional mobility to our members nationwide to provide increased community support and community engagement across the country.
An Garda Síochána has established a COVID-19 National Co-Ordination Unit to co-ordinate and manage a strategic Garda response to the ongoing crisis. Gardaí across the country are collectively being asked to actively identify those persons most at need, particularly those with limited local family or social support.  In these cases An Garda Síochána will assist.
The  vehicles will be used to maintain personal interactions and where needed to assist and support people, which may include collecting medical prescriptions, attending hospital appointments and other supports they may need.  They are not 'primary response vehicles' AKA are not standard Garda cars.
An Garda Síochána will also link identified people into local, national and state services where appropriate
A community support action plan is being led by the Communications Workers' Union (CWU) and An Post. The plan will see delivery staff across Ireland 'checking-in' with older and vulnerable people.
"Postal workers have always been central to their communities and are anxious to help this national effort to get us through this crisis.  They have come up with these great ideas for community support that the CWU is now putting in place with An Post and the Government" says Stevie Fitzpatrick, General Secretary of the Communications Workers' Union.
Postal staff across the country will call into vulnerable customers along their delivery routes at least once a week.  They will particularly focus on those who are living alone in isolated areas.  They will check on their well-being by way of a set of standard questions.  Any requests for provisions or medicines will be relayed directly back to the local HSE team.  An Post will also support the delivery of such essential supplies back to these customers.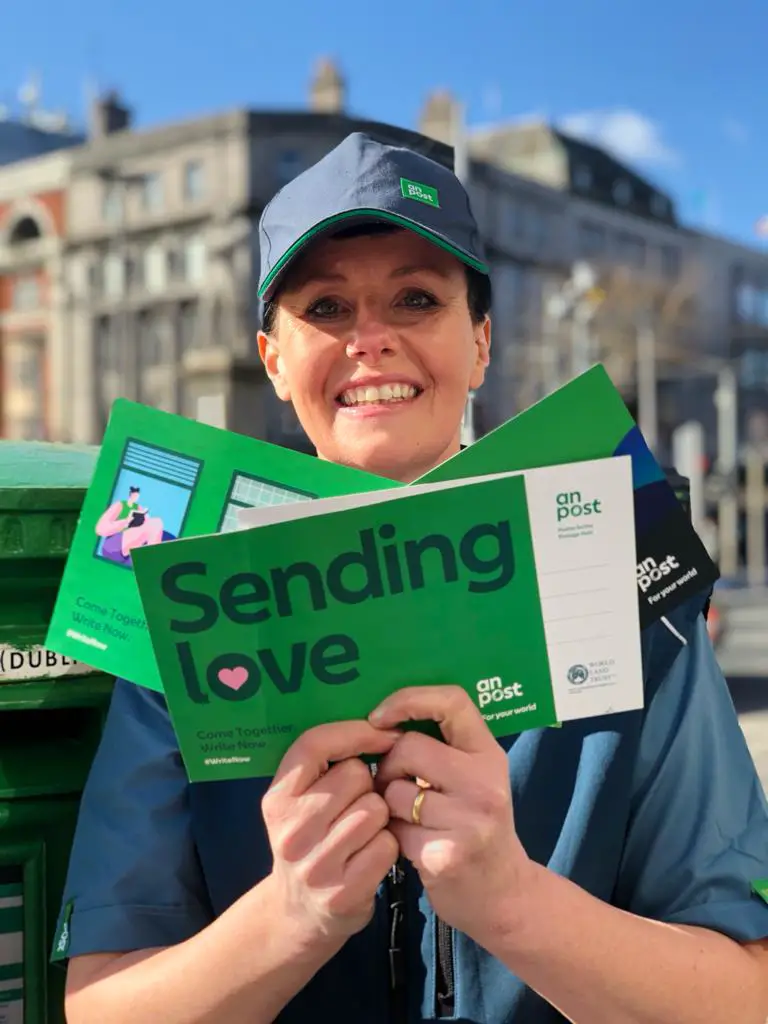 Other services will include
Postal Delivery staff will check-in on or older/vulnerable customers along their postal routes across the country
A free mails and parcels pick up service for these same housebound customers
A newspaper-ordering and delivery service for all customers, currently being set up in conjunction with national and local newspaper groups.
The delivery of a further three million free postage-paid postcards to include all prisons, nursing homes and homeless accommodation facilities – 2 million cards already delivered – to help people send love to family and friends.
"As more bank branches and other retailers close and more people stay close to home, our dual, trusted, essential services of the Post Office and the Postal Service can play an even more central role for individuals and communities.  Working together, we will get through this crisis.  I couldn't be more proud of our staff and Postmasters", Mr McRedmond concluded.
Can this be improved?
Contact
webeditor@asiam.ie
if you have any suggestions for this article.