Apps to support you during COVID-19
COVID-19 has made it even more difficult for autistic people to socialise with friends and keep connected without breaking the rules. With no school, many jobs altered massively, and few spaces open to congregate in, the most reliable way way to stay connected at this time is online.
Zoom and social media are helpful ways to keep in touch. But after a while, especially when most of your connections are also at home all day, finding a good time to connect and coming up with new topics can be difficult.
Rather than exhaust all possible conversations, why not connect with friends in other meaningful ways? Doing activities with one another is a great way to connect and make memories even from a distance. We've put together a list of the best apps to stay connected with friends during this time.
Zoom
I'll start with the most crucial one. Zoom is a remote conferencing service that is great for people who are working on their laptops or desktops during the day. You can utilize the full-featured basic plan for free with unlimited meetings (albeit with time limitations) you can get up to 1,000 video participants and 10,000 viewers on one Zoom meeting. Click here to see pricing and plans to see if it fits into your budget. Zoom also has fun features like background changes and filters. A must have for anyone hoping to keep in touch with family!
Marco Polo
Ever wanted to tell a story to a friend but the prospect of typing the whole thing out or a phone call is a bit much? The solution is Marco Polo.
With this app, you can send video clips that won't disappear after being viewed. This means users can go back to conversations via video message.
Dubbed a "walkie talkie" style app, Marco Polo is great for those who have different schedules or just have a hard time committing to a time for a video chat.
Download Marco Polo for Android 
Netflix Party
The Google Chrome extension Netflix Party is an great for virtual movie nights!
If you've ever tried to "watch a movie together" from different places, you probably know just how difficult it is to sync up when you start, pause, and stop the video. In fact, it can feel impossible to get right. Netflix Party removes that frustration, allowing groups to watch a movie together. When one person pauses, everyone gets paused. When someone hits start, the movie begins for everyone.
There is also a side chat bar to allow for easy commentary. Because there's nothing worse than watching a movie with friends and not being able to make witty comments throughout the duration.
Add Netflix Party to your Chrome Browser
JackBox
This is one of the few apps on our list that isn't free. However, the The Jackbox Party Pack is more than worth the investment, bringing traditional parlour games to the online setting. The games can be played in one room, with players gathered around a TV, or remotely using the screen-sharing function of a video conference platform. The simple idea that makes Jackbox accessible is to throw away the controller, that eternal barrier for non-gamers who are put off by fiddly buttons and joysticks. Instead you can play with any internet-connected device, be that a phone, tablet or laptop, with no apps or installation involved. Only one person needs to have bought Jackbox on console or computer for everyone to play. My personal favourite is Quiplash, a game that brings out the funniness and creativity in all my friends. Quiplash provides prompts like "What Would Be Your First Order as President" or "A Good Way To Get Fired." Once all answers are completed, players then vote on their favorite. Other games test general knowledge, like Trivia Murder Party, which sees players locked in a dungeon that can only be escaped by answering questions.
Squad
If you'd like some company without interrupting your daily routine, Squad is a good app to satisfy that need. This is especially beneficial if you like to sit around with friends, scroll on your phones, and occasionally share memes or news.
With Squad, you can video chat with up to six people and switch between your face and your screen. Any member of the chat can swap their view, allowing for endless meme sharing, exchanges of conspiracy theories, and of course, screenshot-free gossip.
The options are endless. Whatever you'd normally show your friend on your phone, you can show them through video chat. This makes it easy to recap an experience by showing your photo roll, get a second eye on photo edits, or even show your friends creative projects you're working on!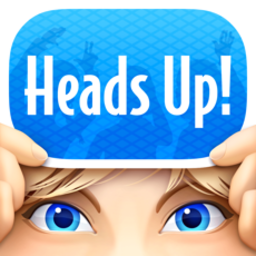 Heads Up!
Heads Up is another app perfect for bringing out your inner clown. The premise of the game is to guess what word is on the card over your head based on the clues provided by your friends. There are tons of categories, from celebrities and movies to animals and more.
This app even gives the option record the game sessions, allowing users to revisit their funniest moments!
Download Heads Up! for Android
Smule
Karaoke fan? Smule has got you covered. You can sing with friends or even duet strangers. You can do your own song solo or have someone else sing a portion with or for you. This might feel a bit strange in your own room rather than in a studio or with a microphone, but trust me, you get used to it quickly!
House Party
House Party is described as, "a face to face social network." This is the app that most of my friends have been using to catch up after our workday ends. The app is free to use. You just download, create a profile, and "enter the house." Your friends on the app will get a notification that you're in the "house" and available for a video chat. It uses a split screen to accommodate multiple users in the same video chat. You can also play games with users like trivia and Heads Up!
Google Duo
Google Duo is a video chat app developed by Google, available on the Android and iOS operating systems. You can video chat up to 8 people with Google Duo. The app allows you to make high quality video calls through mobile, desktop, tablets, and smart displays like the Google Nest Hub Max. Google Duo also comes with a Knock Knock feature — where you'll be able to see the person who is calling you live before you answer.
Kahoot
Fun for all ages, Kahoot was originally designed for use in the classroom. A central quizmaster organises a quiz and can have everyone else join in, using their phone to answer questions. It works for recreational purposes but is a great way to sneak education into a child's daily routine.